21/10/99 02:12
Elke jeugdige r&b-liefhebber zou verplicht naar de theatershow R.E.S.P.E.C.T. moeten gaan. Al was het alleen maar om te horen aan welke artiesten de huidige zwarte hitparadebestormers en MTV-stamgasten schatplichtig zijn. De 'gouden eeuw' van de soul, funk en klassieke rhythm & blues - de jaren zeventig en tachtig - komt in deze show aan bod.
Lees meer...
06/11/96 02:50
Disco inferno. Burn baby burn. Burn that mother down.
Harde donderklappen van de drummer, een bas die als door de duivel op de hielen gezeten doorpompt, koper dat schettert, schreeuwende vocalen. Een dansnummer dat niet op lijkt te houden.
Burn Baby Burn
. Het disco­-tijdperk wordt perfect samengevat in dat ene nummer,
Disco Inferno
, van de Amerikaanse formatie The Trammps. Disco Inferno is te vinden op de dubbelplaat
Saturday Night Fever,
de film die John Travolta tot megaster bombardeerde, waarvan volgens ingewijden in de platenindustrie wereldwijd zo'n vijftig miljoen exemplaren zijn verkocht. Het nummer is al even klassiek als de rest van die plaat.
Lees meer...
09/05/96 23:28
Drie originele leden van de vroegere Average White Band vormen de kern van de groep die enkele jaren geleden weer werd gereanimeerd. Aan de muziek van toen is niets veranderd: soul met veel funk en een weinig jazz; uiterst strakke, dansbare muziek waarvan het onderlijf als vanzelf gaat bewegen. Morgen is in Noorderligt in Tilburg te zien en te horen of de band haar sexappeal nog niet verloren heeft.
Lees meer...
04/04/96 02:59
Na een succesvolle toernee door Amerika en Japan voert multi-­instrumentalist Larry Graham zijn funkformatie Graham Central Station nu ook door Europa. De start van deze concertenreeks vindt plaats in Noorderligt in Tilburg.
The Funk For A Million Years Tour ­Europe 96
heeft de veelgeroemde funkbassist Larry Graham zijn jongste toernee genoemd. Maar de funkmuziek heeft dan ook een speciale band met superlatieven en grootspraak. De formatie Graham Central Station stond in de jaren zeventig garant voor degelijke funkmuziek en concerten die oor en oog zelden te kort deden.
Lees meer...
04/01/96 03:07
Twee procent jazz en achtennegentig procent
funky stuff
. Dat simpele recept hanteert de Amerikaanse saxofonist Maceo Parker, volgens eigen zeggen, bij zijn optredens. Zo'n vijfentwintig jaar als muzikale steun en toeverlaat van de fameuze soulkoning James Brown heeft Parker blijkbaar bescheiden gemaakt. Zijn optredens zijn een aanstekelijke mix van invloeden, ritmes en muzikale genres en een uitgekiend kat­-en­-muisspel van de doorgewinterde artiest met zijn publiek.
Lees meer...
01/04/93 02:39
Ga op een willekeurige avond naar zo maar 'n dansclub of disco waar ook ter wereld. Zonder twijfel is dan een of meer keer muziek van James Brown te horen. Brown is wereldwijd het onbetwiste boegbeeld van de soul­- en funkmuziek, de zwarte dansmuziek bij uitstek. Geen enkele individuele muzikant is belangrijker geweest voor deze muziek dan de 62­-jarige Brown.
The hardest working man in showbusiness
, een van de vele titels die hij zichzelf heeft gegeven, is volgende week donderdag 8 april voor een eenmalig concert in Nederland; hij treedt dan op in de Brabanthallen in Den Bosch.
Lees meer...
04/02/93 23:06
Soulveteranen Rufus Thomas en Junior Walker treden op in Noorderligt Tilburg: aanstekelijke dansmuziek uit oude doos.
Bij elke andere 75­-jarige artiest zou het een historisch, want misschien wel laatste, concert kunnen worden. Bij soulveteraan Rufus Thomas ligt dat anders. Niet alleen beschouwt hij zich als
'the oldest teenager of the world
', maar hij leeft al veertig jaar voor zijn optredens.
Lees meer...
14/05/92 03:15
Nu Lisa Stansfield weer is uitgerust van de vreselijke vermoeienissen veroorzaakt door het sterrendom, komt ze dinsdag 19 mei toch naar het Concertgebouw in Den Haag. Het op 23 maart vastgelegde optreden ging niet door omdat de Britse zangeres werd verrast door het succes van haar tweede cd 'Real Love'. En door de waan die haar wereldwijde populariteit met zich meebracht.
Lees meer...
21/11/91 23:16
Wereldberoemd werd de nu 47-­jarige Amerikaanse zangeres Diana Ross door The Supremes. Haar solo­carrière kende ook jarenlang alleen maar hoogtepunten. Maar inmiddels is
La Ross
in haar supersterstatus voorbijgestreefd door jongeren als Whitney Houston. Gebleven zijn de Las­Vegas-achtige shows met oogverblindende kostuums en 'gouwe ouwe' nummers. Op 27 en 28 november verzorgt zij optredens in Ahoy in Rotterdam.
Lees meer...
14/09/91 22:28
De 75-­jarige Amerikaanse zanger Frank Sinatra dompelt toeschouwers die zijn concerten bezoeken al jaren onder in een warm nostalgisch bad. De ouderwetse
crooner
heeft zijn beste jaren al ver achter zich, maar met show­ en vakmanschap heeft hij zich als absolute wereldster gevestigd; hij is uitgegroeid tot een monument in de lichte muziek. Onaantastbaar. Maar zelfs een monument kan slijtageplekken vertonen.
Lees meer...
01/08/91 22:58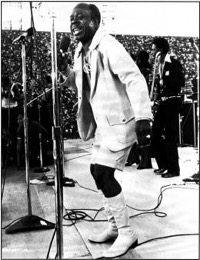 Een van de oudste en kleurrijkste nog actieve artiesten in de soulmuziek is de 74­-jarige ras­entertainer Rufus Thomas. Hij had enkele hits in de jaren vijftig en zestig en nog altijd zijn zijn dwaze nummers van toen - '
The Funky Chicken', 'The Dog', 'Can Your Monkey Do The Dog
' en '
Do The Funky Penguin'
- de ruggegraat van zijn energieke shows. Sinds 1971 pleegt hij die in korte broek af te werken.
Lees meer...
04/07/91 02:29
It's startime with Mr. Dynamite, Soulbrother no.1, the Godfather of Soul... Jáámes Bróówn
. De in superlatieven gedrenkte aankondiging bij aanvang van het concert van James Brown moet de toehoorders komende woensdag alvast week maken voor het absolute boegbeeld van soul­ en funk. Dan is
The hardest working man in showbusiness
weer in Nederland. Aan de vooravond van het North Sea Jazz Festival is Brown te gast in de Statenhal in Den Haag.
Lees meer...
27/06/91 02:20
Terug van weggeweest: George Clinton, alias Dr. Funkenstein. De nu 50-jarige funk-pionier heeft een merkwaardige loopbaan achter de rug. Hij begon als zanger in een doo-wop-groepje, had enorme successen met zijn psychedelische funk, ging bankroet en werd in ere hersteld door funk-erfgenaam Prince. Clinton is een van de meest bizarre muzikanten in de zwarte muziek.
Lees meer...
08/05/91 02:01
Een flink portie funk, maar evenzogoed zoete ballads, enkele mespuntjes soul, jazz en latin, gekruid met wat politiek (natuurlijk anti-apartheid), gemaakt met groot respect voor de Schepper; dat is het recept van Maze.
Lees meer...
14/10/90 22:16
De Amerikaanse stad Detroit werd in de jaren zestig en zeventig vanwege de Motown-artiesten
'Hitsville USA'
genoemd. Memphis daarentegen kreeg het predikaat
'Soulsville USA';
minder hits, maar wel gedreven zwarte muziek. Een staalkaart van Memphis soul is woensdag te beluisteren en bekijken in theater Noorderligt, onder het motto:
A Memphis Soul Night
. Het belooft een drie uur durend speltakel te worden met onder anderen Ann Peebles, Otis Clay, Willie Mitchell en The Memphis Horns. Aanvang: 21.00 uur.
Lees meer...