22/11/17 22:48 Staat in:
Jazz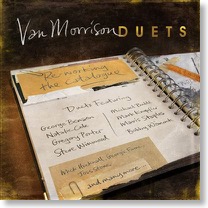 Lang in zijn loopbaan leek Van Morrison (Belfast, 1945) weinig mis te kunnen doen. Met fameuze platen als Astral Weeks, Moondance, Saint Dominic's Preview, Veedon Fleece, A Period Of Transition en Into The Music. Maar zo af en toe kroop er toch een mindere plaat tussendoor en de laatste decennia meer dan een. Duets: Re-Working The Catalogue bevat nieuwe opnames van oude nummers met in ieder nummer een andere bekende co-zanger. Dat doet het ergste vrezen, want doorgaans zijn die duetten-albums van grote artiesten amper te verteren.
Toch is die angst ongegrond, het is geen staaltje schmieren geworden en ook heeft Morrison niet een stel populaire sterren uitgenodigd, à la de Lady Gaga's van deze wereld, om maar een zo breed mogelijk publiek te verleiden. Een mooie staalkaart van zijn eigen indrukwekkende repertoire - zonder hits - is Duets, waaraan onder anderen Bobby Womack, Mavis Staples, P.J. Proby, Gregory Porter, Natalie Cole en Georgie Fame meewerken. Gelouterde artiesten dus die Morrison naadloos aanvullen. Dit album (Studio-album nummer 35 alweer) is dan ook heel wat beter dan de plaat You Win Again die hij in 2000 uitbracht met Linda Gail Lewis.