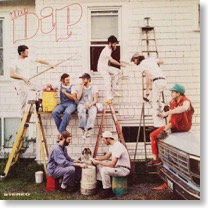 The Dip uit Seattle heeft 14 april zijn volwaardige debuutalbum gepresenteerd, met daarop elf compacte nummers. Het album draagt de verrassende titel: The Dip. De negenmansgroep - die funk, soul en pop mengt - bestaat uit
Tom Eddy (Vocals, Guitar) Jarred Katz (Drums) Mark Hunter (Bass Guitar) Jacob Lundgren (Guitar) Sam Hylton (Keyboards) Austin Strand (Congas, Percussion) Featuring The Honeynut Horns: Brennan Carter (Trumpet) Levi Gillis (Tenor Saxophone) Evan Smith (Baritone Saxophone).
Aldus de Facebookpagina van de groep. Wie er iemand bekends tussen ziet staan, mag het zeggen. De muzikanten kennen elkaar van hun studententijd aan de Universiteit van Washington, naar het schijnt. Op dezelfde Facebookpagina staat dat de leden
'hard hitting'
soul en funk willen spelen voor mensen die wel van een feestje houden. The Dip is een leuk bandje, dat puntige nummers speelt met prettig dwingende ritmes, maar snoeiharde funk en soul kun je deze muziek niet noemen. Daarvoor is het allemaal niet iets te beschaafd.