Terwijl de overbuurman deze middag zijn tuin schoffelt, treedt de Amerikaanse singer-songwriter Justin Hulsey op in een huiskamer aan de Wellenstraat in Diessen. De muzikant verzorgt in de huiskamer van Susan van de Wal een solo-concert voor 28 toehoorders.
De uit Denver afkomstige zanger-gitarist Justin Hulsey (33) was acht maanden geleden voor zijn eerste toernee in Nederland; de afgelopen maand trad hij niet alleen in ons land op maar stonden er ook enkele optredens op de rol in Engeland. Hulsey speelde de afgelopen weken van Hoorn tot Maastricht, op festivals, bij radiostations, in zaaltjes en cafés. En dus ook in huiskamers, zoals bij Susan van de Wal. De 34-jarige Diessense werkt in de zorg maar regelt in haar vrije tijd de promotie en optredens van Hulsey in Europa. "Deze toernee kon ik twee keer zoveel optredens boeken als voor de eerste en het waren er nog meer geweest als het WK niet had plaats gehad. De belangstelling voor zijn muziek groeit duidelijk. En de reacties van mensen die naar hem komen luisteren zijn uiterst positief. Zijn liedjes spreken mensen echt aan."
In het najaar neemt Hulsey een nieuw album op; mogelijk volgt in het voorjaar van 2015 een volgende Europese toernee. Hulsey: "Dan hoop ik dat ik ook in België en Duitsland kan optreden". Van de Wal: "Het is veel werk om een tourmanager te zijn, maar het is tegelijk ook ontzettend leuk."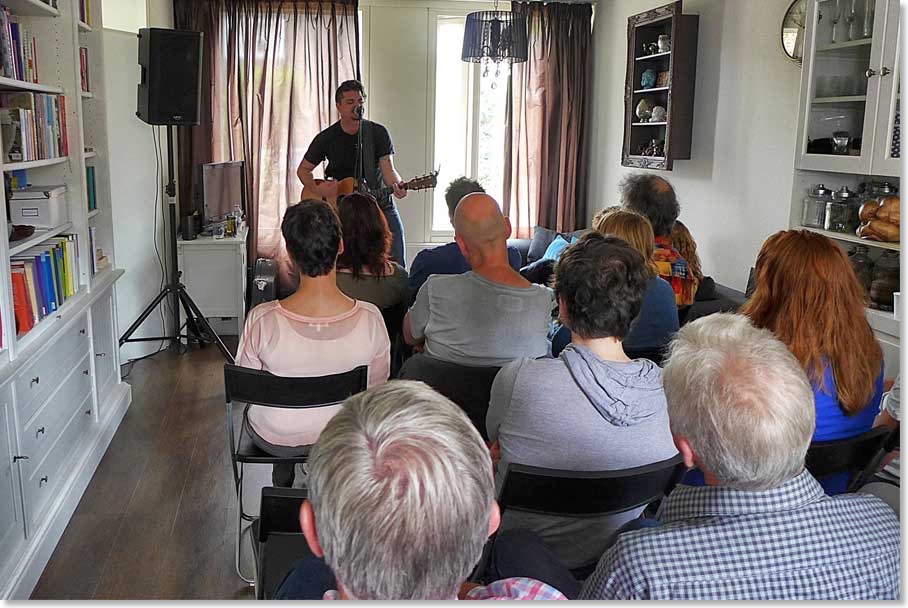 Singer-songwriter
Justin Hulsey
uit Kansas/Nashville/Denver trad gisteravond in de huiskamer van vrienden in Tilburg-Noord. Een intiem decor met veertig toehoorders. Die luisterden ook echt; kom daar nog maar eens om tegenwoordig tijdens een 'gewoon' muziekoptreden....
De 32-jarige muzikant is in zijn liedjes geen lachebekje; melancholie, weemoed en teleurstellingen in de liefde zijn zijn thema's. Hij zong en speelde met grote overgave, zichzelf begeleidend op een gitaar. In de introductie op zijn nummers toonde hij zich heel wat luchtiger dan in de liedjes zelf. En daarin bleek ook dat hij een belezen man is. Zo inspireerde een boek van Rudyard Kipling hem tot het nummer
The Elephant Child
. Het nummer
Lucia
gaat over een opdracht die hij in een tweedehands boek zag staan:
Lucia, Return To Me, Tony.
Dat hij dat boek in een winkel voor tweedehands boeken kocht, doet het ergste vermoeden voor Tony...
Vier albums heeft Hulsey inmiddels gemaakt. En in juni komt hij weer naar Nederland, onder meer voor een nieuwe reeks huiskamerconcerten.
Susan van de Wal uit Diessen is zijn promoter in Nederland. En die heeft weer een bijzonder verhaal te vertellen over hoe dat zo gekomen is. Wat het van alle kanten een genoegelijke avond maakte. Temeer omdat Hulsey na afloop van zijn optreden lang bleef om met iedereen van gedachten te wisselen over zijn liedjes en zijn visie op het leven.