Voor een groep die zingt over de Here Jezus loopt het doorsnee schouwburgpubliek niet warm. Het zal gek zijn; thuis voor de tv worden per slot van rekening ook alle EO­-uitzendingen meteen weggezapt. Heel anders ligt het wanneer de groep bestaat uit vier blinde, zwarte èn bejaarde gospelzangers. Als The Five Blind Boys of Alabama zingen, gaan de armen zonder gêne de lucht in op teksten als 'Prijs de Heer' en levert elke emotionele uithaal een staande ovatie op.
Lees meer...
11/11/93 21:57 Staat in:
boek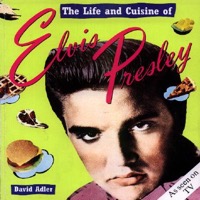 Ontbijt: in boter gebakken sandwiches met pindakaas en banaan. Lunch: in boter gebakken sandwiches met pindakaas en banaan. Diner: in boter gebakken sandwiches met pindakaas en banaan. Avond­snack: in boter gebakken sandwiches met pindakaas en banaan. En dat een week lang. Niet voor niets is Elvis Presley de allerlaatste mens op aarde die wordt geassocieerd met goed eten. Hij is belichaming van de culinaire wansmaak. Net als in zijn andere bezigheden kende Elvis Presley (1935­-1977) aan tafel geen maat. Hij verwezenlijkte zijn kleuterdroom: alleen eten wat en wanneer je zelf wilt.
Lees meer...
Buiten in de korte rijen voor aanvang van het concert van James Brown in de Brabanthallen gaan de gesprekken ook in het Engels en het Duits. Een optreden van de vitale zestiger - koning van de soul­ en de funk - trekt mensen van over de landsgrenzen. Ook al zijn het er tegenwoordig niet veel meer. Organisator Leo van Hal brak het zweet ervan uit. Zo'n 2.500 mensen kwamen naar Brown en zijn band kijken; het betekent een verliespost met de omvang van een bovenmodaal jaarsalaris.
Lees meer...
Ga op een willekeurige avond naar zo maar 'n dansclub of disco waar ook ter wereld. Zonder twijfel is dan een of meer keer muziek van James Brown te horen. Brown is wereldwijd het onbetwiste boegbeeld van de soul­- en funkmuziek, de zwarte dansmuziek bij uitstek. Geen enkele individuele muzikant is belangrijker geweest voor deze muziek dan de 62­-jarige Brown.
The hardest working man in showbusiness
, een van de vele titels die hij zichzelf heeft gegeven, is volgende week donderdag 8 april voor een eenmalig concert in Nederland; hij treedt dan op in de Brabanthallen in Den Bosch.
Lees meer...
Soulveteranen Rufus Thomas en Junior Walker treden op in Noorderligt Tilburg: aanstekelijke dansmuziek uit oude doos.
Bij elke andere 75­-jarige artiest zou het een historisch, want misschien wel laatste, concert kunnen worden. Bij soulveteraan Rufus Thomas ligt dat anders. Niet alleen beschouwt hij zich als
'the oldest teenager of the world
', maar hij leeft al veertig jaar voor zijn optredens.
Lees meer...