16/12/99 22:54 Staat in:
pop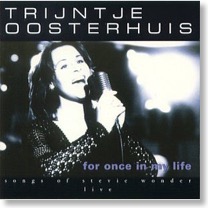 Stevie Wonder is een muzikaal genie. Wie zich aan zijn werk waagt, moet dus van goeden huize komen. Trijntje Oosterhuis (Total Touch) brengt met
For Once In My Life
een live-cd uit met alleen nummers van Wonder. Een ongewone combinatie met een verrassend resultaat. Oosterhuis toont zich op dit album een ware souldiva: vol nuances, nu eens zwoel en gevoelig en dan weer uithalend als ze van God los is. Oosterhuis koos gelukkig niet de gemakkelijkste weg, namelijk het klakkeloos imiteren van de fraaie Wonder-composities. Ze voegt er haar eigen (zang)persoonlijkheid aan toe. Ook in de keuze van de nummers speelt ze niet op zeker, want ze beperkt zich niet alleen tot de klassiekers. Haar strakke begeleidingsband zorgt ervoor dat de rijkgeschakeerde arrangementen van Wonder ook live tot hun recht komen. Maar ja, het blijven grote schoenen om te vullen, die van een genie.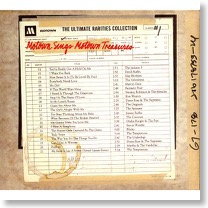 Eigenaar Berry Gordy van het legendarisch Motown platenlabel wilde maar één ding: hits. Die kreeg hij ruimschoots van artiesten als Stevie Wonder, Marvin Gaye, The Supremes en The Jackson Five. Een van de manieren om die hits te scoren was een harde onderlinge competitie binnen het label; dezelfde nummers werden vaak door verschillende producers en artiesten opgenomen, waarna de uitvoering met de meeste hitpotentie werd uitgebracht. De 'afvallers' zijn nu samengebracht, maar zulke rariteiten zijn het niet. Sterker nog: er staan heerlijke versies op van Motown-klassiekers. Bijvoorbeeld van de Supremes-nummers
I Hear A Symphony
(dit keer van Stevie Wonder) en
Stop! In the Name Of Love
, meeslepend vertolkt door Kim Weston. Slechts drie van de nummers zijn eerder uitgebracht: de rest komt uit het archief. Voor Motown-fans verplichte kost.
18/10/05 01:18 Staat in:
Soul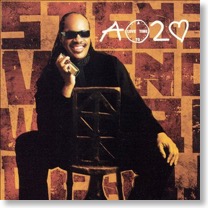 Diverse keren is het uitbrengen van het nieuwe album van de muzikale duizendpoot Stevie Wonder uitgesteld. Het maakte de verwachtingen alleen maar hoger, ook al omdat de perfectionist al in geen tien jaar meer een nieuw studio-album had gemaakt. Die hooggespannen verwachtingen lost hij niet in. Niet dat 'A Time To Love' een slecht album is, zeker niet. Stevie Wonder zal nooit een echte uitglijder begaan. Maar bij iemand van zijn statuur, met geniale albums als 'Songs in the Key of Life' en 'Talking Book' en het ook klassieke 'Hotter Than July' op zijn conto, ligt de lat nu eenmaal hoger dan bij anderen. Ook al zijn die succesalbums al minstens 25 jaar geleden gemaakt. De nieuwe cd van Stevie Wonder bevat natuurlijk weer een reeks lieve ballads, afgewisseld met nummers met meer pit. Het openingsnummer 'If Your Love Cannot Be Moved', belooft nog veel: een meeslepend, funky ritme en fraaie zang van Wonder en Kim Burrell. Maar daarna volgen toch te veel 'gewone' nummers. Ook al zijn ze alle veertien met veel zorg en oog voor details geconstrueerd. Toch blijft hij ver verwijderd van zijn vroegere niveau.
26/10/04 00:17 Staat in:
Soul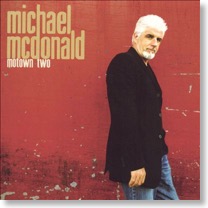 Een veilige keuze is het nieuwe album van Michael McDonald, oud-Doobie Brothers, maar al lang solo. Op 'Motown Two' vertolkt hij weer enkele pronkstukken van het legendarische zwarte platenlabel uit Detroit. Twee jaar geleden werd het album 'Motown' al platinum. En toch is dit misschien wel het beste album sinds jaren van de grijze zanger. De Motown-liedjes zijn de songs waarmee hij opgroeide en dat is te horen: het plezier spat er vanaf. McDonald zingt zeer geïnspireerd en de keuze van de nummers is beter dan die voor het vorige album. Niet alleen superhits komen voorbij, ook enkele iets minder bekende, maar minstens zo sterke nummers. McDonald wordt bijgestaan door een oerdegelijke ritmesectie en er zijn gastrollen voor Billy Preston en Stevie Wonder. Het nummer 'Stop, look, listen' dat hij zingt met Toni Braxton is een van de meest sexy soulduetten van de laatste jaren.