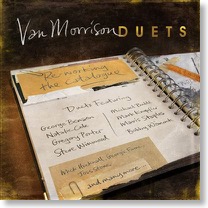 Lang in zijn loopbaan leek Van Morrison (Belfast, 1945) weinig mis te kunnen doen. Met fameuze platen als Astral Weeks, Moondance, Saint Dominic's Preview, Veedon Fleece, A Period Of Transition en Into The Music. Maar zo af en toe kroop er toch een mindere plaat tussendoor en de laatste decennia meer dan een. Duets: Re-Working The Catalogue bevat nieuwe opnames van oude nummers met in ieder nummer een andere bekende co-zanger. Dat doet het ergste vrezen, want doorgaans zijn die duetten-albums van grote artiesten amper te verteren.
Toch is die angst ongegrond, het is geen staaltje schmieren geworden en ook heeft Morrison niet een stel populaire sterren uitgenodigd, à la de Lady Gaga's van deze wereld, om maar een zo breed mogelijk publiek te verleiden. Een mooie staalkaart van zijn eigen indrukwekkende repertoire - zonder hits - is Duets, waaraan onder anderen Bobby Womack, Mavis Staples, P.J. Proby, Gregory Porter, Natalie Cole en Georgie Fame meewerken. Gelouterde artiesten dus die Morrison naadloos aanvullen. Dit album (Studio-album nummer 35 alweer) is dan ook heel wat beter dan de plaat You Win Again die hij in 2000 uitbracht met Linda Gail Lewis.
De Canadese
Diana Krall
heeft zo haar eigen manier van interpreteren van de klassiekers uit de jazzhistorie. Een wat trage, al dan niet gemaakt-verleidelijke stijl, passend bij haar stem. En voorzien van prettig in het gehoor liggende, zeer verzorgde arrangementen. De vocaliste en pianiste heeft met deze
smooth jazz
een grote reputatie opgebouwd. Voor haar laatste, zeer recent uitgebrachte album
Wallflower
vertolkt ze nummers uit de pop- en soft-rockmuziek, zoals California Dreamin' van The Mama's & The Papa's, Desperado en I Can't Tell You Why van The Eagles, Wallflower van Bob Dylan, If I Take You Home Tonight van Paul McCartney, Alone Again van Gilbert O'Sullivan, Operator van Jim Croce en Don't Dream It's Over van Neil Finn. Elk lied wordt met een ballad-achtig jazz-sausje geserveerd. Op de Deluxe Edition komen er enkele live-uitvoeringen bij, zoals van Sorry Seems To Be the Hardest Word van Elton John.
In enkele gevallen pakt de benadering van Krall heel mooi uit, zoals in California Dreamin' dat een heel nieuw nummer lijkt geworden. In andere liedjes is het verschil met het origineel minder groot en het nummer dus minder spannend. Dan wordt zo'n uitvoering ook ineens erg braafjes. Het komt er vooral op die momenten voor de luisteraar op aan of hij of zij de stem van Krall en haar zangstijl waardeert.
Met dit album, waarop Diana Krall hulp krijgt van onder anderen Michael Bublé, Bryan Adams en Georgie Fame (luxe versie), in de cd-speler of op de iPod kan niemand zich op een luie zondagochtend of laat op welke avond dan ook een buil vallen. In welk gezelschap hij of zij zich ook bevindt.