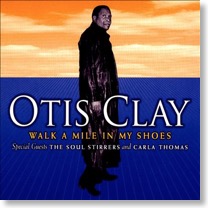 Otis Clay is een intense soulzanger die weliswaar nooit de status van zijn voornaamgenoot Otis Redding heeft bereikt, maar toch tot de groten van dit muziekgenre behoort. Daarnaast zingt hij al sinds het begin van zijn muzikale loopbaan gospels en heeft hij in de blueswereld ook een degelijke reputatie. Niet voor niets kreeg hij in 2013 een plaatsje in de
Blues Hall Of Fame
.
In 1983 trad hij voor een uitzinnig publiek van zo'n 45.000 mensen in Japan op - er is een album van gemaakt - en amper een jaar later zag ik hem zijn hart uit zijn lijf zingen op een geïmproviseerd podium in het cultureel centrum van Turnhout, voor enkele tientallen toehoorders. Zijn overgave was er niet minder om. Ik herinner me ook nog Clay's iets te korte broekspijpen van zijn jaren zeventig-soulpantalon; alsof hij geen geld had voor een nieuw podiumkostuum...
Walk a Mile in My Shoes
is een gospelalbum van Clay uit 2007, dat nu opnieuw is uitgebracht. Een zuivere gospelplaat is het niet; het album bevat ook seculiere nummers, zoals het breed uitgesponnen
Love's In Need Of Love Today
van Stevie Wonder. De
andere Otis
(bouwjaar 1942) is op dit album goed bij stem en wordt begeleid door veel kopergeschetter, zoals in de beste soultraditie. Clay zingt een live-duet met Stax-ster Carla Thomas en heeft een medley opgenomen met Soul Stirrers (bekend van Sam Cooke) Leroy en Arrthur Crume. Maar ondanks die brug naar de seculiere muziek, zullen niet-gelovigen nummers als
I Adore You Lord, Love Of God
en
On Jesus Program
puur vanwege de teksten een behoorlijke drempel vinden, ook al worden ze met grote begeestering vertolkt.
De Amerikaanse stad Detroit werd in de jaren zestig en zeventig vanwege de Motown-artiesten
'Hitsville USA'
genoemd. Memphis daarentegen kreeg het predikaat
'Soulsville USA';
minder hits, maar wel gedreven zwarte muziek. Een staalkaart van Memphis soul is woensdag te beluisteren en bekijken in theater Noorderligt, onder het motto:
A Memphis Soul Night
. Het belooft een drie uur durend speltakel te worden met onder anderen Ann Peebles, Otis Clay, Willie Mitchell en The Memphis Horns. Aanvang: 21.00 uur.
Lees meer...
Memphis Soul is een redelijk vastomlijnd genre in de zwarte populaire muziek. De grenzen werden vooral in de jaren zestig en zeventig getrokken: emotionele zang op een uitermate solide ritmische ondergrond, afgemaakt met krachtig blazerswerk. Ook de zijpaden van het genre zijn in die glorietijd veelvuldig bewandeld: soft soul, jazz-, blues- en gospelachtige varianten.
Wie dus gisteravond in Noorderligt dacht vernieuwende muziek te horen, werd teleurgesteld.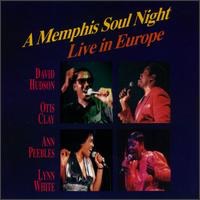 Lees meer...