24/09/20 09:42 Staat in:
Soul
Goed nieuws voor muziekliefhebbers: nieuwe albums van Bettye Lavette (Blackbirds) en Dan Penn (Living on Mercy). Beide zeer de moeite waard. De oude garde - Lavette 74 jaar en Penn 78 - doet het nog best. Lavette met liedjes van zangeressen die ze bewondert. Dan Penn met dertien nummers in de traditie van zuidelijke soul. Hij is bekend van nummers als I'm Your Puppet, At The Dark End Of The Street en Do Right Woman, Do Right Man,die vooral door anderen groot gemaakt zijn. Mooie eigen liedjes zijn het ook dit keer weer. Doorleefd.
19/07/05 01:13 Staat in:
Soul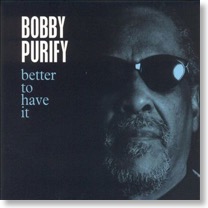 Bobby Purify is een oudgediende in de soulmuziek. Hij was lid van het duo James en Bobby Purify, dat in de jaren zestig succesvol was en onder meer een hit had met 'I'm your puppet'. Anders dan de naam doet vermoeden, bestond het duo niet uit twee broers; de rol van Bobby werd achtereenvolgens door drie verschillende zangers ingevuld. Ben Moore kwam pas in 1971 op het toneel. Hij bleef zijn artiestennaam voeren, ook nadat het duo ter ziele was. Onder beide namen trad hij op en maakte hij platen, in het soul- en gospelgenre. Nadat hij in 1998 blind geworden was, leek zijn muzikale loopbaan - hij trad nog regelmatig op - helemaal voorbij. Toch kon producer Dan Penn hem weer strikken voor een ouderwetse soulalbum. Misschien wel in de hoop net zo'n klapper te maken als oudgedienden Al Green en Solomon Burke. Purify maakte een al even klassieke soulplaat als de recente albums van die twee. 'Better to have it' kent geen grote uitschieters, maar bevat over de hele linie mooie vocale harmonieën, een strakke begeleiding met schetterend koper, accenten van een 'zingend' orgel en veel emotie.