18/09/01 00:15 Staat in:
r&b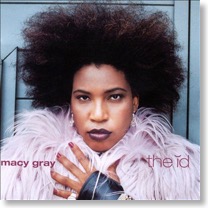 Van de gruizige soulstem van Macy Gray moet je houden. Ze is een combinatie van Aretha Franklin en Janis Joplin. Of van Eartha Kitt en Prince (aldus de Britse The Times). Met The id - wat staat voor het instinct van de mens - heeft ze haar debuutalbum
On how life
is (uit 1999) ruimschoots overtroffen. The Id is is gemaakt op gevoel, instinct desgewenst. Daardoor veel gevarieerder dan haar vorige cd. Neem het absolute hoogtepunt van The id:
Sexual revolution
. Dat nummer begint rustig met violen, vervolgens wordt het haast een discostamper en ontaardt het in zwaar op gitaren leunende funk. De mix ontspoort nergens, of ze nu kinderkoren in de strijd gooit of kiest voor ouderwetse soul. Heel bijzonder. Met bijdragen van onder anderen Erykah Badu, Angie Stone en het nieuwe talent Sunshine Anderson. Dat geeft de status van de 29-jarige Macy Gray als eigentijdse souldiva aan.