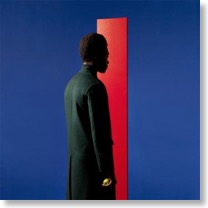 Het eerste volwaardige album van de Britse zanger en pianist
Benjamin Clementine
doet meteen aan Nina Simone denken. De theatrale voordracht, frasering, dictie en klankkleur. Niet verwonderlijk, Nina Simone is een van zijn vele inspiratiebronnen, naast onder anderen Erik Satie, Jimi Hendrix, Leonard Cohen en Léo Ferré naar het schijnt.
Clementine
is op zijn minst bijzonder. Theatraal. Expressief. Tegendraads. Hij put uit allerlei muziekstijlen en schuwt bijzondere arrangementen en tempi niet. Hij roept bij mij de sfeer op van een vestzaktheater in het Parijs of Berlijn van de jaren twintig of dertig waar eigenzinnige muzikale talenten hun kunsten vertonen.
Life is a cabaret.
'Je moet ervan houden', geldt voor elke muziek en artiest. Maar voor de een meer dan de ander. Op Benjamin Clementine is het sterk van toepassing.