Elke jeugdige r&b-liefhebber zou verplicht naar de theatershow R.E.S.P.E.C.T. moeten gaan. Al was het alleen maar om te horen aan welke artiesten de huidige zwarte hitparadebestormers en MTV-stamgasten schatplichtig zijn. De 'gouden eeuw' van de soul, funk en klassieke rhythm & blues - de jaren zeventig en tachtig - komt in deze show aan bod.
Lees meer...
09/04/98 20:03 Staat in:
Soul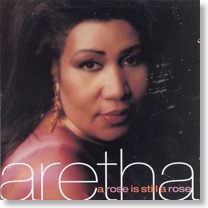 Soulzangeres Aretha Franklin is toe aan haar 49ste album:
A Rose Is Still A Rose
. Daarvoor zocht ze samenwerking met een handvol eigentijdse producers als Sean 'Puffy' Combs en Lauryn Hill van The Fugees, naast oude bekenden als Narada Michael Walden. Die tweeslachtigheid zit in het hele album: ouderwetse soulnummers met passionele, fantastisch getimede vocalen, maar op een modieuze, machinale begeleiding. Het enige nummer dat er echt uitspringt is het bezielde
The Woman
, geschreven door Aretha Franklin zelf. Met levende muzikanten, zonder
drum & keyboard programming.
Misschien is het een concessie aan deze tijd. Hoe dan ook: voor oude Aretha-fans is het overbodig want The Queen Of Soul is nog niets van haar glorie verloren en voor de nieuwe generatie is het vast te weinig eigentijds.