08/02/15 21:07 Staat in:
Soul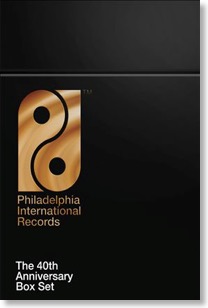 Van de Amerikaanse platenmaatschappijen Motown en Stax verschenen langer geleden al omvangrijke cd-boxen, van Philadelphia International Records gebeurde dat in 2012. Simpelweg
Philadelphia International Records: The 40th Anniversary Box Set
geheten. Tien albums met een heel divers aanbod aan artiesten, maar ze vallen allemaal onder de noemer
Philly Sound
. Het is het tweede muzikale overzicht na de verzamelaar
Love Train: The Sound of Philadelphia.

Wat een feestelijk overzicht van dansbare en deels zijdezachte soul uit Philadelphia. Met onder meer: The Love I Lost en Don't Leave Me This Way (Harold Melvin & The Blue Notes), When Will I See You Again en Dirty Ol' Man (The Three Degrees), Do It Anyway You Wanna (People's Choice), Me & Mrs Jones (Billy Paul), Now That We Found Love (O'Jays), Lady Love (Lou Rawls), I Don't Love You Anymore (Teddy Pendergrass), Ain't No Stoppin' Us Now (McFadden & Whitehead), Hurry Up This Way Again (The Stylistics), If Only I Knew (Patti LaBelle) en First Time Together (Phyllis Hyman).
Disco inferno. Burn baby burn. Burn that mother down.
Harde donderklappen van de drummer, een bas die als door de duivel op de hielen gezeten doorpompt, koper dat schettert, schreeuwende vocalen. Een dansnummer dat niet op lijkt te houden.
Burn Baby Burn
. Het disco­-tijdperk wordt perfect samengevat in dat ene nummer,
Disco Inferno
, van de Amerikaanse formatie The Trammps. Disco Inferno is te vinden op de dubbelplaat
Saturday Night Fever,
de film die John Travolta tot megaster bombardeerde, waarvan volgens ingewijden in de platenindustrie wereldwijd zo'n vijftig miljoen exemplaren zijn verkocht. Het nummer is al even klassiek als de rest van die plaat.
Lees meer...