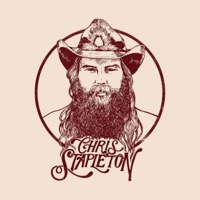 Het duurde anderhalf jaar voordat de Amerikaanse countryzanger en liedjesschrijver Christ Stapleton een opvolger van zijn succesvolle album
Traveller
uit 2015 uitbracht. Die plaat bezorgde hem veel meer succes dan hij in zijn stoutste dromen had verwacht. Stapleton brak met zijn gedreven country door naar een breed publiek. Voor album nummer twee putte hij uit zijn rijke liedjesoeuvre, dat volgens Stapleton zelf meer dan duizend liedjes omvat. Daaruit koos hij samen met zijn vrouw Morgane, tweede vocalist op zijn platen en tijdens optredens, een flink aantal nummers. Allemaal al voor Traveller geschreven. Liedjes die al gerijpt zijn. Op
From A Room: Volume 1
staan negen nummers. In de opnamesessie in RCA Studio A in Nashville, waar legendarische countryartiesten muziek hebben opgenomen, registreerde Stapleton genoeg liedjes voor een tweeluik;
From A Room: Volume 2
komt er dan ook aan.
Stapleton heeft met zijn vrouw en vaste muzikanten weer een prachtplaat gemaakt. Niet in een week opgenomen zoals Traveller en vervolgens in een week gemixed. Dit keer trokken de muzikanten twee maanden uit om op te nemen en af te werken. Dat is lang voor zijn doen, want Stapleton houdt niet van langdurige processen, niet in het schrijven van liedjes en niet in het maken van platen. Hij koos bewust voor vertrouwde, al doorleefde nummers uit zijn eigen catalogus; liedjes die al gerijpt zijn. Is From A Room: volume 1 meer van hetzelfde? Gelukkig wel! Zonder absolute kraker als Tennessee Whiskey op Traveller. Maar wat een magische mix van country, blues en roots levert Stapleton weer met zijn barstige stem. En wederom zonder gekke fratsen in de arrangementen.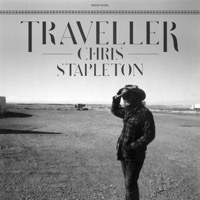 Geen nummer dat ik de laatste maanden vaker heb afgespeeld dan
Tennessee Whiskey
van Chris Stapleton. Dat staat op zijn debuutalbum
Traveller
uit 2015, waarvoor de Amerikaanse countryzanger (bouwjaar 1978, Kentucky) veel lof kreeg toegezwaaid. Hij won er diverse belangrijke prijzen voor en het werd nog goed verkocht ook. Dean Dillon en Linda Hargrove schreven het prachtige, emotionele liedje over drankzucht en een verlossende liefde; het werd in 1983 een hit voor de legendarische George Jones. Maar de versie van Stapleton overtreft die van Jones met gemak. Meeslepend gezongen over een spaarzaam arrangement; ouderwetse en tegelijk tijdloze country.
Er staat nog een tweede hartverscheurend hoogtepunt op Traveller: het nummer
Sometimes I Cry
. Live in de studio opgenomen voor een klein publiek. Rauw, schurend, emotioneel gaat Stapleton hierin tot het gaatje en dan nog net even verder. Twee absolute uitschieters op een album dat verder al van topniveau is. Misschien komt het zware sentiment wel doordat Stapleton inspiratie opdeed voor deze liedjes tijdens een roadtrip die hij in 2013 ondernam nadat zijn vader was overleden.
Chris Stapleton, voorheen van The SteelDrivers en The Jompson Brothers, is een van de grootste country-talenten van de laatste jaren. Als uitvoerend artiest mag hij misschien nog niet veel opgenomen hebben, als liedjesschrijver heeft hij al zo'n 150 titels op zijn naam staan. Bekende artiesten als Adele en Tim McGraw hebben nummers van hem op een plaat gezet. In alle opzichten een grote meneer dus.