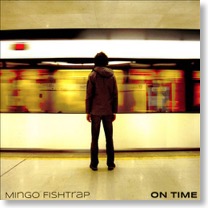 Acht muzikanten vormen samen de soulband Mingo Fishtrap, die als basis het Amerikaanse Austin, Texas heeft. Het nieuwe album van de groep rond Roger Blevins jr heet
OnTime
, nummer vier in een reeks die in 1997 met
Succotash
begon. Lekker puntige hedendaagse soulmuziek, met schetterend koper in nummers als Movin' en het aanstekelijke Sugadoo (waarin deze regels vaak herhaald worden:
Sugadoo, what you gonna do? Have yourself a slice of my pie, too).
En in elk nummer is er de gruizige stem van Blevins.
Mingo Fishtrap komt uit Texas maar mixt naadloos de verschillende stijlen van soul en funk uit zowel Memphis als New Orleans , zoals het hele album een mooi geheel vormt. Misschien op het nummer
Too Far Gone
na, dat ontspoort wat in al te veel pretenties. In Nederland is de groep niet erg bekend, in de VS stond ze al op het podium met onder anderen Trombone Shorty, Sting, Parliament, Little Feat, Earth Wind & Fire en Robert Randolph.
Achter de bandnaam Mingo Fishtrap zit overigens geen grote gedachte; gewoon de naam van een kruispunt in de buurt van Denton, Texas.